Israeli Daily
ID-No.1
10 Ab 5770 21 July 2010
A Brit-Am Jerusalem News Service

[still in experimental stage, needs

sponsor(s

); advertisement possible]



This feature will not replace Jerusalem News but will exist alongside it.
It will offer short news summaries centered on Israel.
Most of the information will be culled from the mainstream news services but here and there we have other sources of value and interest.
Whether or not the service continues will depend upon public response, how much time and energy it takes from us, and what resources become available to us.


---
---

North Korea Ordered to Compensate Puerto Rican Families for Attack in Israel
In May, 1972 three Japanese Red Army terrorists, who had been trained by North Korea, on loan to the PLO
attacked and killed 26 people and wounded about 50 others in Lod Airport, Israel. Among the dead was Aharon Katzir, a top scientist at the Weizmann Institute (YNet).
16 of the dead were pilgrims from Puerto Rico. A court in Puerto Rica has now ordered North Korea to pay $378 million to families as compensation (YNet).

---
---



Most Israelis Honor Ninth of

Ab

Mourning for Temple
22% of Israeli honored Tisha b'Av (The fast of the Ninth of Ab) by not eating or drinking for ca. 25 hours. Another 52% honored the day by not going out with friends (YNet).

---
---



Arab Clan Warfare Kill Two, Terrify Jewish and Arab Residents


http://www.israelnationalnews.com/News/News.aspx/132200
An Arab clan war broke out just south of the Temple Mount in Jerusalem over the weekend, escalating into a full-blown gun battle that claimed the lives of two Arabs and left ten others injured. Residents of the Silwan area, both Jewish and Arab, say they are frightened to leave their houses, and claim police refused to intervene and stop the violence.

---
---

U

S Navy

Succesfully

Implements Laser Warfare!


http://www.theyeshivaworld.com/
The U.S. Navy has used a a laser weapon to shoot down four unmanned aerial vehicles in a test that rings up memories of Ronald Reagan's "Star Wars" missile defense shield in the 1980s.

---
---



Arab Murderers Arrested; Arab Helped Kill Israeli Just After His Little Daughter had received Israeli Medical Care


http://www.imra.org.il/story.php3?id=48779
On 22 June 2010, the IDF, ISA and Israel Police, arrested the Hamas terrorist cell responsible for the killing of policeman Shuki Sofer during a shooting attack on 14 June 2010, on route 60 near the Israeli community of Otni'el. Two other policemen were injured in the incident.

The operatives, all in their twenties, some of which were held by Israeli security forces in the past for their involvement with the Hamas Terrorist organization, were arrested in the village of Deir Tsamet, near Israel's Lachish region.

It should be noted that one of the members of the terror cell admitted during questioning that two weeks prior to the attack, he had accompanied his 6 year old daughter to the Hadassah Hospital in Jerusalem, where she had a tumor removed from her eye. The operation had been paid for in full by an Israeli charity foundation.

---
---



Breast-feeding is better for Baby's teeth and jaws


http://dienekes.blogspot.com/
Quote:
In addition to the multiple advantages that mother's milk offers to newborns, breastfeeding also helps correct orofacial development (not only for the incisors position, but also for the vertical and sagittal relations of the mandible with upper maxillary and cranial basis).

---
---

Breastfed Babies are more Intelligent
Breastfeeding and IQ (Steer et al. 2010)
http://dienekes.blogspot.com/
Quote:
Children's intellectual development is influenced by both genetic inheritance and environmental experiences. Breastfeeding is one of the earliest such postnatal experiences. Breastfed children attain higher IQ scores than children not fed breast milk, presumably because of the fatty acids uniquely available in breast milk.

---
---



Farrakhan and

Obama

? Michelle

Obama

in Photo-Op with Mama Farrakhan


About That Racist Tea Party Movement
http://sultanknish.blogspot.com/

Farrakhan Says:
(1. White people are genetically inferior to black people, and never should have been created except as a result of sin. White people are the devil whose skin is the manifestation of a sin by black people, and will be destroyed at the end of 6000 years.

(2. Jews are the worst white people, because they made all the other white people through Jacob, and are the usurpers who rule over black people.

(3. Islam will destroy Christianity. Presumably Judaism also, which Farrakhan had already called a "gutter religion".

Obama participated in organizing Farrakhan's Million Man March.

But then again Obama helping to organize Farrakhan's 1995 Million Man March is unsurprising considering that his mentor Jeremiah Wright, was a close Farrakhan ally. As was his other clergyman mentor, Father Pfleger. Not to mention Willie Barrow. And Farrakhan's Final Call has been quite enthusiastic about Obama.



Picture of Michelle Obama Lined up for photo with Mrs Farrakhan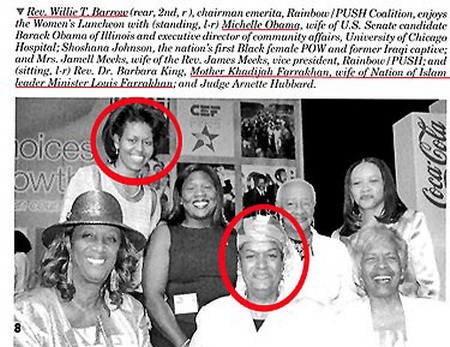 ---
---



'Israel is world's most isolated country'


http://www.jpost.com/International/
Article.aspx?id=182060
Outgoing [Israeli] Ambassador to the UN Gabriella Shalev told American journalists on Monday that Israel is "the most isolated, lonely country in the world," and that the biggest threat to its existence is not Iranian nuclear proliferation, but international attempts to delegitimize it.

In terms of the United Nations, UN Watch director Hillel Neuer told the Post from Geneva that "Ambassador Shalev is exactly right".

"Out of some 40 resolutions adopted since 2006, more than 70 percent target Israel, while granting impunity to Hamas terror," Neuer said of the Human Rights Council."Victims of abuses worldwide are ignored. The [HRC] currently has multiple inquiries under way against democratic Israel, yet none on massacres committed by gross violators like China, Iran, Sudan, or Kyrgyzstan."


---
---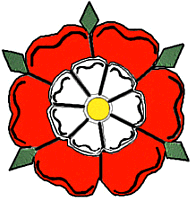 Pleased with what you read"
The Brit-Am enterprise is a good Biblically-based work.
They who assist Brit-Am will be blessed.
Brit-Am depends on contributions alongside purchases of our publications.

Click Here to make an offering.

Click Here to view our books and magazines.
---
---
---
'It is impossible to rightly govern the world without God or the Bible.'
George Washington
---
---

Brit-Am is the "still small voice" that contains the truth.
[1-Kings 19:12] AND AFTER THE EARTHQUAKE A FIRE; BUT THE LORD WAS NOT IN THE FIRE: AND AFTER THE FIRE A STILL SMALL VOICE.












Home