The Bull Calf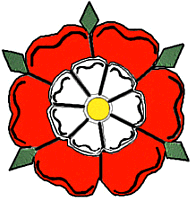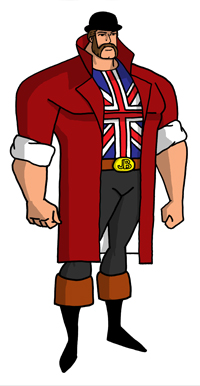 Biblical Locations
of the Lost Ten Tribes

Scriptural Proof
The Joseph Aspect

by Yair Davidiy




Biblical Evidence: The Joseph Aspect

BULL-CALF AEGEL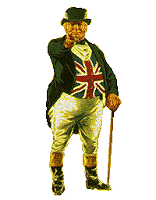 The isles should be aware that God will gather in the scattered ones of Israel (Jeremiah 31:10). Rachel (the mother of Joseph)
will no longer have to weep over the exile of her children for they will return (31:15-16). Ephraim (Jeremiah 31:18) is called a bullock or young bull:
[Jeremiah 31:18]
"I HAVE SURELY HEARD EPHRAIM BEMOANING HIMSELF THUS; THOU HAST CHASTISED ME, AND I WAS CHASTISED, AS A BULLOCK [Hebrew: AEGEL] UNACCUSTOMED TO THE YOKE: TURN THOU ME, AND I SHALL BE TURNED; FOR THOU ART THE LORD MY GOD."

In Hebrew the word translated as "bullock" is "aegel". Historically this very name "Aegel" was a
diminutive (favorite nickname) for the ethnic term "Angle". The Angles gave
England (i.e. Angle-land) its name. Together with the Saxons, Jutes,
Vandals, and others the Angles conquered from the Celts the land that was
later named "England". The Angles were also called Aegels. The appellations
Angle and Aegel were employed interchangeably. The Hebrew word for young
bull is "Aegel". Rashi (Rabbi Shlomo Yistchaki 1040-1105 CE) was the
foremost Medieval Jewish Commentator. In commentating on this verse
(Jeremiah 31:18) Rashi states that the Hebrew word "Aegel" (Young Bull) was a
name applied to Ephraim. As we saw, this was also another name applied to the English. The
English now nickname themselves "John Bull". Since the early 1800s the
figure of John Bull has been used to portray Britain in political
cartoons. John Bull parallels Uncle Sam who represents the USA.
Political Cartoon depicting Britain as "John Bull"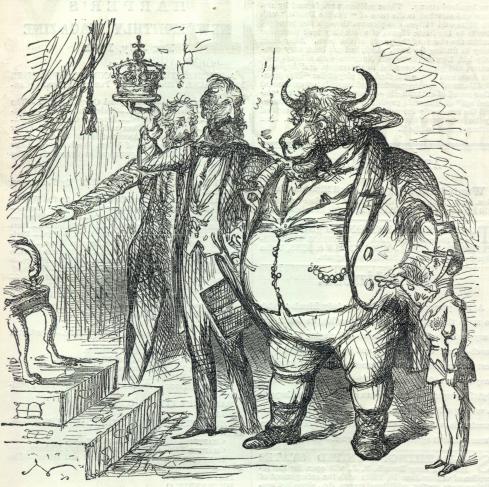 The English (Angles) were also known as Aegels. The names Aegel and Angle
appear to have been interchangeable. In Hebrew they could be two
alternative ways of pronouncing the same word. For example, in old
Ashkenazic (European) Hebrew the "ayin"-letter could have an "an" sound instead of
the usual "a", thus Yankel was a nickname for someone called Yakov, with the
Ya- in Yacov being pronounced as "Yan". Similarly Aegel and Angel could
originally have both been different forms of the Hebrew word "Aegel".
England (Angle-land) was named after the Angles. Angle is another form for
Aegel and aegel was a nick-name for Ephraim. Aegel means young bull.
This is an important point: The verse (Jeremiah 31:18) is therefore strongly
indicating that the English (Angles) are to be identified with Ephraim.
Concerning Joseph, Moses commented:
[Deuteronomy 33:17]
"HIS GLORY IS LIKE THE FIRSTLING OF HIS BULL".

Ephraim shall return.