Foreword by Yair Davidiy
This is a book by Rabbi Avraham Feld. Brit-Am through Russell-Davis Publishing helped produce the work but Rabbi Avraham is the one who wrote it. The content is his own.
This book is not intended necessarily to "convert" anyone but rather to open up new vistas and show that more possibilities of equally valid Biblical interpretation exist than we were aware of. Each one of these different approaches is capable of adding a new depth to our understanding of the BOOK and of ourselves.
The Sayings of the Sages may be divided into what they said as legal expressions and what they said as non-legal ones but rather matters of opinion.
One Talmudic sage said this and another said something else. One may understand them as both speaking the truth but referring to different aspects of the same reality (Maimonides, Introduction to the Mishna) OR one may say that one was wrong and the other right or that they were both wrong.
When it comes to deciding what the Law says then the Jew is obligated to act as the Law prescribes EVEN IF HE DISAGREES that such an interpretation is justified by Scripture since Scripture itself gives the sages the authority to interpret itself as they see fit. Where non-legal matters are concerned then no such constriction exists.
[Deuteronomy 17:8] IF THERE ARISE A MATTER TOO HARD FOR THEE IN JUDGMENT, BETWEEN BLOOD AND BLOOD, BETWEEN PLEA AND PLEA, AND BETWEEN STROKE AND STROKE, BEING MATTERS OF CONTROVERSY WITHIN THY GATES: THEN SHALT THOU ARISE, AND GET THEE UP INTO THE PLACE WHICH THE LORD THY GOD SHALL CHOOSE; [Deuteronomy 17:9] AND THOU SHALT COME UNTO THE PRIESTS THE LEVITES, AND UNTO THE JUDGE THAT SHALL BE IN THOSE DAYS, AND ENQUIRE; AND THEY SHALL SHEW THEE THE SENTENCE OF JUDGMENT: [Deuteronomy 17:10] AND THOU SHALT DO ACCORDING TO THE SENTENCE, WHICH THEY OF THAT PLACE WHICH THE LORD SHALL CHOOSE SHALL SHEW THEE; AND THOU SHALT OBSERVE TO DO ACCORDING TO ALL THAT THEY INFORM THEE: [Deuteronomy 17:11] ACCORDING TO THE SENTENCE OF THE LAW WHICH THEY SHALL TEACH THEE, AND ACCORDING TO THE JUDGMENT WHICH THEY SHALL TELL THEE, THOU SHALT DO: THOU SHALT NOT DECLINE FROM THE SENTENCE WHICH THEY SHALL SHEW THEE, TO THE RIGHT HAND, NOR TO THE LEFT.
Acceptance of the Oral Tradition is a Biblical Commandment. What is more the very legitimacy of King David and his descendant, the future Messiah depends on acceptance of Rabbinical Tradition as we have explained
elsewhere
. Rabbi Feld is a scholar but more than being a scholar Rabbi Feld is concerned to establish the truth and to set people on the Right Path and that is what the present work by Rabbi Feld does. Rabbi Feld makes claims and statements that some of you may find difficult to accept. This too can be a blessing. One is liable to find many who think differently from Rabbi Feld. Nevertheless in order to appreciate whatever opinion one ultimately holds by it is worth learning the alternate approach Rabbi Feld advocates since his viewpoint reflects that of the Sages and is justified by the Bible.
Did the
Lubavitcher Rebbe (RABBI MENACHEM MENDEL SCHNEERSON 1902-1994 ZT'L) foresee the role of R"Avraham Feld?
Rabbi Menachem Mendel Schneerson, also known as the "Lubavitcher Rebbe" was the leading force behind the Chabad movement that in some way or other has affected for the better most Jews of the world and also many of Gentiles, especially those of North America. Many consider the Rebbe to have been divinely inspired and it cannot be denied that the Rebbe had insights beyond the ken of ordinary mortals.
Rabbi Menachem Mendel Schneerson once met with R"Avraham Feld (an erstwhile representative of Brit-Am but while still perhaps somewhat of a supporter NO LONGER formally associated with us) and blessed him. There was something in the blessing whose significance is only now becoming apparent. When R"Avraham Feld was still a student at Yeshiva University, he had acquired a reputation for being able to get youth out of trouble in cases where few (if any) others were able to do so. Shortly after he received his qualification as a Rabbi, R"Avraham Feld was approached by a leading figure in the Chabad movement, asking him to handle an especially difficult and potentially dangerous case. Avraham agreed.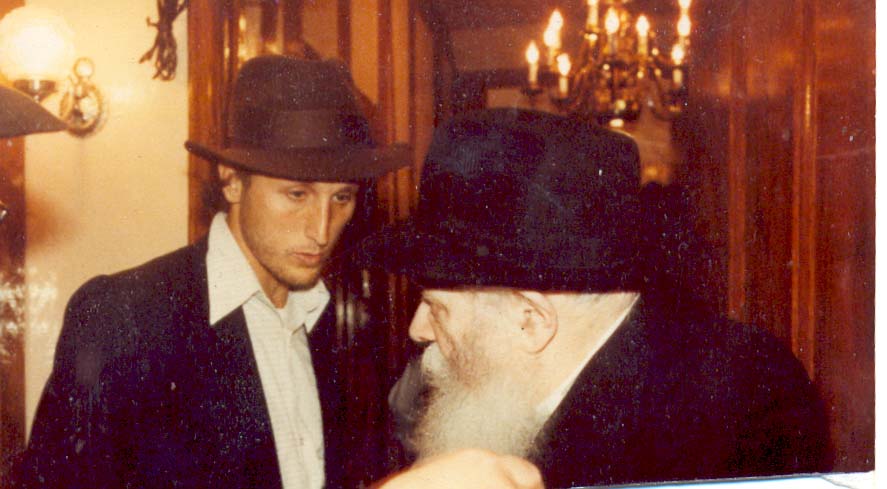 Photo of Rabbi Avraham Feld at his meeting with the Rabbi of Lubavitch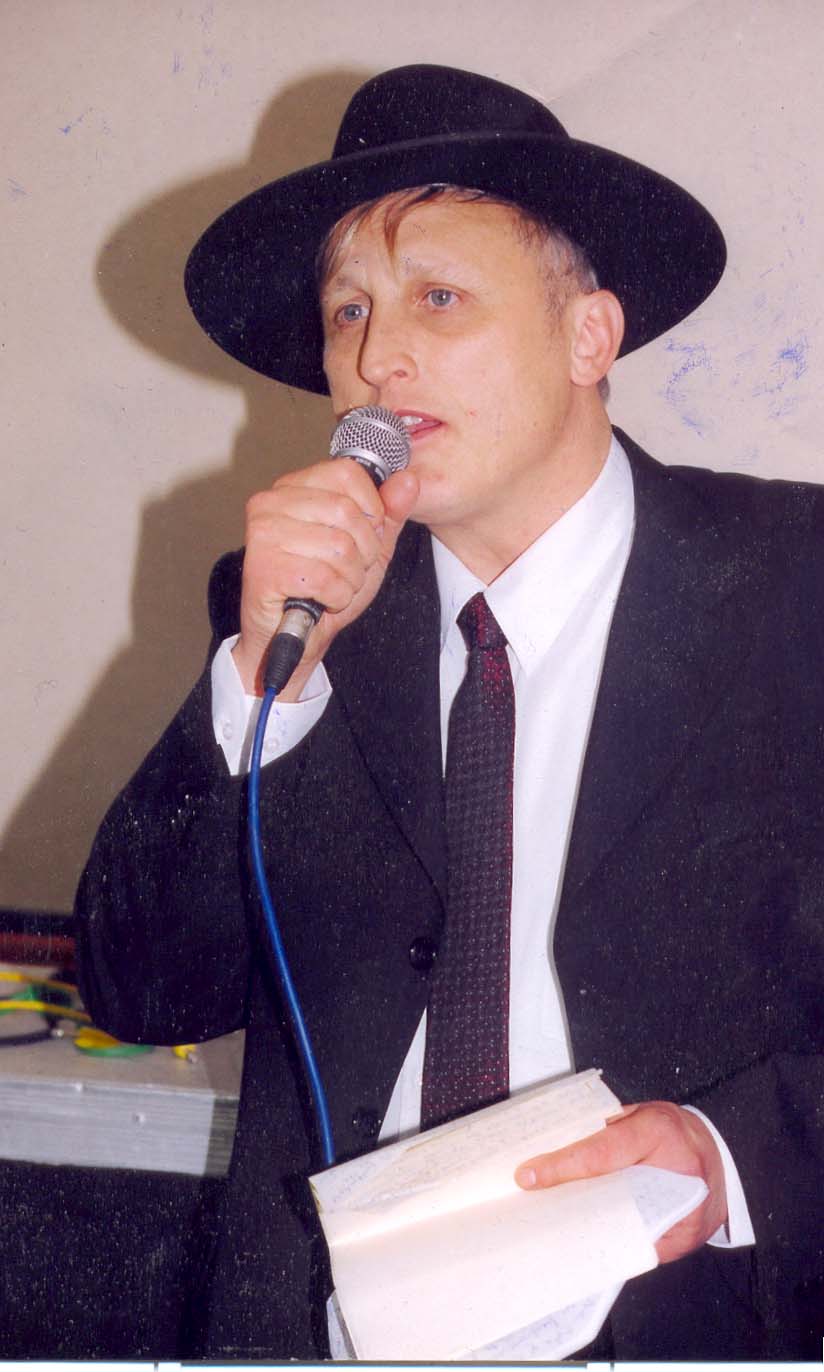 Photo of Rabbi Feld speaking at a later date
Whilst the project was still in progress a meeting was arranged between Avraham and the Rabbi of Lubavitch. The Rabbi blessed Avraham that he should merit to bring the Jewish youth he was dealing with closer to the right path. Avraham then requested a blessing that he should also merit to be able to reach out to the Gentiles he came in contact with, especially since he felt that many of them were of Israelite descent.
The Rebbe replied: "Of course they are".
The Rebbe then blessed Avraham that he should merit to have a good influence on Jews and on Gentiles of Israelite descent.
At the time Rabbi Avraham assumed that the blessing pertained specifically to the particular task he was then dealing with. Rabbi Avraham Feld later believed that the blessing included his later work with Brit-Am and "Ephraimites" in general. Rabbi Feld is no longer a member of Brit-Am and has been "released" from whatever ties he may have had.
Join the Brit-Am E-Mail Discussion Group
Publications
Home