JERUSALEM NEWS
NEWS AND INFORMATION
Events, happenings, and Opinions Concerning
Israel, Israelites, Judah, and Everyone Else

Jerusalem News-789






Jerusalem News-789
19 Tammuz 5768, 22 July 2008
Contents:
1. Yitzhak

Herskovitz

Fights For His Rights!
2. (a) Arutz-7 Version: Another Bulldozer Attack in Jerusalem: 23 Wounded
2. (b) YNET Version: The Second Bulldozer Attack and Hero of the Day - A Druze Soldier
3. Survey: US Citizens 42% Back Israel Actively versus Iran
Most Republicans for Israel but most democrats are not??
4. McCain: US won't allow 2nd Holocaust
5. Gaza: Another Palestinian sentenced to death for helping Israel
6. PM Brown Assures Israel: "Britain is your true friend".
British PM warns Iran in landmark Israel speech
7. Israel fears Iranian

WMDs

would reach

Hamas





================================================

---
###############################################
1. Yitzhak

Herskovitz

Fights For His Rights!




Preliminary Note:

Yitzhak Herskovitz is a sympathizer of Brit-Am.
He befriended Yair Davidiy when we were just beginning the Brit-Am enterprise and living on a farm in the South Hebron Hills.
At that time when I had to travel elsewhere in Israel I would return at night to Kiryat
Arba (just beside Hebron) and need to reach Susia to the south in the morning but usually there was no transportation to be had. Yitzhak lives in a little cabin made out of a container up by the gate and he frequently put me up for the night enabling me to catch the early morning bus southward.
Yitzhak is a good honest genuine person and the article below is accurate.

Date: Thu, 17 Jul 2008 13:05:27 +0300
From: hebron@hebron.org.il


Eretz Yisrael is obtained with hardship

The Talmud in the tractate Brachot teaches us that three prizes are obtained via hardship: Torah, the Next World, and Eretz Yisrael. Yitzhak Herskovitz has first-hand experience with the adversity involved in redeeming and settling Eretz Yisrael, the Land of Israel.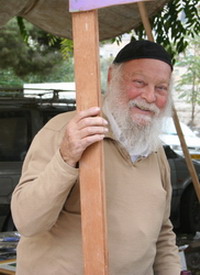 R' Yitzchak made aliyah over 20 years ago. A carpenter by trade, he remodeled the lift he used to transport his belongings to Israel into a wonderful home in Kiryat Arba. But a home outside Hebron wasn't enough to quench his thirst for settling our holy land. Back in 1988 he began proceedings to purchase a home in south Jerusalem, near Gilo, today called Givat HaMatos, bordering a neighborhood called by the Arabs, Beit Tsafafa.

The transaction took a few years to finalize but in 1992 he received the papers and the property was his.

Almost. But not quite.
That's because his new home had visitors who had no plans to leave. Arab squatters, the Salach clan had moved in and the new Jewish owner of the property didn't impress them. They stayed.

Yitzchak Herskovitz did what any good citizen would do. He went to the police and eventually to the courts. That's where the case has remained for the past sixteen years.

During the first Magistrate court proceedings, experts proved beyond any doubt that the papers presented by the Arabs, purporting to support their claims, to be forgeries. After years and years of court sessions, the judge ruled in Herskovitz' favor. An order was issued demanding that the police remove the illegal residents from the property. Over the years some seven eviction notices have been issued. But the Salach clan is still there. The police, despite the court order, refused to expel the illegal squatters.

Following Herskovitz' victory the Arabs appealed to a Jerusalem District Court, claiming that they owned the property. The judge decided not only to hear the appeal, but also to retry the case from the very beginning, forcing Herskovitz to keep paying an attorney and bring back all his past witnesses for a second round of court sessions.

Herskovitz' attorney, Ms. Anat Ben-Dror explained that the original court verdict did not rule on ownership of the property, rather regarded the case as an 'eviction hearing.' The Arabs, after losing the first case, then filed an 'ownership suit,' and the judge fell into the trap they set for him and began hearing the case for a second time.

Herskovitz pointed out that when the Arabs made a verbal claim of ownership twelve years ago, the Magistrate Court judge told them in no uncertain terms: 'if you claim ownership, file a claim in the District Court which has authority to rule on such an issue.' The fact that they did not follow the judge's instructions then basically proved that they themselves knew that they had no case.

Not too long ago R' Yitzchak won a small victory in court. The judge ruled that the Arabs would have to deposit all back rent as well as a monetary bond covering future costs, in order for him to cancel the eviction notice issued and still standing against them. However, as of this writing they still have not paid the money, and are still living in the house.

Yitzhak Herskovitz has himself authored a number of documents concerning his property:

" I spent 15 years of my life in court. I spent hundreds of thousands of shekels in legal fees, court expenses, investigation and expert research of their documents, which the police crime laboratory and my hand writing expert found to be fabricated. All of this just to pursue justice.

The police do not enforce the law when it comes to Arabs. Should I not be upset when I see and feel the injustice of this?

I understand that there are squatter's rights when they are legitimate. But when they are illegitimate, that person is a trespasser. A trespasser is a criminal. He should be put in jail so the public will know that trespassers go to jail.

I do not believe a person can fathom the pain of what trespassing does to me. The restraint that I bear goes beyond comprehension. I have been told by many not to trust the Israeli courts. I now understand why. It goes without saying: the courts and the government are responsible to protect the property rights of their citizens.

This is the primary function of the government. This is their duty and responsibility. They must provide for the safety and security of their citizens in Hebron, Tel Aviv, Jerusalem or in Beit HaShalom and in Givat Hamatos.

Many of my of my acquaintances and friends keep telling me: Sell it and forget it!

The best answer I can give is that I love my children, I love my family and I love my people. I want them to have a home that they can come home to. We cannot allow Arabs to occupy our homes and our properties, to steal and rob our Land from us.

I want to help guarantee the survival of Israel."

(This article was first printed in the Jewish Press Magazine, Page M8, July 18, 2008 issue)

---
---

2 (a). Arutz-7 Version: Another Bulldozer Attack in Jerusalem: 23 Wounded
http://www.israelnationalnews.com/News/News.aspx/126925

by Hillel Fendel

(IsraelNN.com) For the second time in three weeks, an Arab commandeered a bulldozer to commit a terrorist attack in Jerusalem. He wounded several people before being shot and killed.

The terrorist began his attempt to murder Jews on King David St. near the Yemin Moshe neighborhood. He took a tractor from a construction site, and began plowing into vehicles along the street, hitting at least three cars - one of which he completely overturned - and a bus. One driver was able to escape from his car even though the tractor plowed it into a bus stop. When the terrorist reached the intersection of Keren HaYesod St., a citizen and Border Guard policeman shot and killed him. The entire incident was over very quickly, eyewitnesses said.

Less than three weeks ago, an Arab from eastern Jerusalem killed three people in a similar attack before he was himself killed by a heroic yeshiva student/soldier. The tractor used in today's attack was smaller than the one used in the previous one.

Of the 23 injured, one is reported in moderate condition - apparently with an amputated leg - and the others have light injuries or are suffering from trauma. Among them are a woman and her nine-month-old baby son.

Gag-Order on Terrorist's Name
The dead tractor terrorist was an Israeli citizen, living in Um Tuba, a south-eastern Jerusalem Arab neighborhood not far from Sur Baher. His name was publicized over the radio, and minutes later, a gag order prohibiting it from being disseminated was publicized - apparently because of his family connections with a an orange-bearded Hamas legislator who has been jailed for involvement in terrorism.

Moshe Feiglin, leader of the Likud's Manhigut Yehudit faction, was an eyewitness to the attack. He told Voice of Israel Radio that his first impression of the attack was the tractor-shovel attempting to drop down upon a passerby. "At first I thought it was some kind of accident, but very quickly we realized that it was an attack. Thank G-d, it ended very quickly, because of the alertness of passersby who shot him - I saw a man I know from the southern Judea community of Susia, but he was the first one to shoot the terrorist, and then the Border Guard policeman came and finished the story."

The man who first shot the terrorist was later announced to be Yaki Asael, 56, father of eight, from Susia.

"We have long called for a policy of not hiring Arabs in construction," said Shifra Hoffman of Victims of Arab Terror. "We hold the government guilty of this attack for not implementing this policy."

---
---



2 (b).

YNET Version: The Second Bulldozer Attack and Hero of the Day - A Druze Soldier
Killing of terrorist captured on video
http://www.ynetnews.com/articles/0,7340,L-3571781,00.html

Caught on video: Bulldozer driver goes on rampage in Jerusalem, wounds 18 people; terror attack ends quickly thanks to rapid respone by settler Yaakov Asael, Druze Border Guard officer Amal Ganem who shot and killed terrorist

Efrat Weiss

VIDEO - The Jerusalem bulldozer attack Tuesday afternoon left 18 people wounded but could have been much worse had it not been for the quick reaction of settler Yaakov Asael and Border Guard officer Amal Ganem, who shot and killed the terrorist. The last moments of the incident were captured on video.

The video shows Ganem fire at the terrorist from one side of the bulldozer. In the backdrop a man is heard saying "is there anyone here who can provide first aid? There's somebody wounded here."

Ganem is then seen moving over to the other side of the bulldozer, while an eyewitness tells him that the driver is still alive: "He's not dead, he's dead." Ganem then aims his weapon and fires several bullets, bringing the incident to an end.

The camera then shifts to a religious man who is asked for his name by the photographer. The man replies "Yaki Asael" and the photographer replies "Yaki, you were the first one to fire. Way to go." Asael gives the thumbs up signal and walks away modestly, without taking credit for shooting the terrorist.

Officer Ganem, who is Druze, said later that as opposed to the previous bulldozer attack he refrained from climbing on the vehicle and instead fired from several feet away. "The lesson from the previous attack was not to mount the bulldozer?I improved my position and fired at him," he said.

"After I fired and saw that he was neutralized, I attempted to open the bulldozer's doors, but apparently the terrorist also learned some lessons from the previous attack and locked the doors," Ganem added. "I then mounted the bulldozer, broke the windshield, and opened the door. I saw that he was no longer alive, so I didn't fire again."

Meanwhile, Druze community leader Sheikh Muafiek Tarif said: "The Druze sect has showen its loyalty to the State of Israel for years now. Today, the resourcefulness of Amal Ganem, a Druze community member, proved our loyalty to the State of Israel. Ganem, who acted quickly and without hesitation in order to prevent further casualties, is a model to thousands of young Druze who have acted and are acting on behalf of the State of Israel."

---
---

3. Survey: US Citizens 42% Back Israel Actively versus Iran
Most Republicans for Israel but most democrats are not??

Rosner's Blog
Shmuel Rosner Chief U.S. Correspondent www.haaretz.com/rosner
If Israel attacks Iran, 42% say U.S. should help
http://www.haaretz.com/hasen/pages/rosnerBlog.jhtml?itemNo=865078
A couple of days ago we wrote about the previous Rasmussen poll on Iran (78% of Americans believe: Iran will soon develop nuclear weapons), and now there's new such survey.

Forty-two percent of Americans say that if Israel launches an attack against Iran, the United States should help Israel. The latest Rasmussen Reports national telephone survey found that 46% believe the United States should do nothing while just 1% believe the U.S. should help Iran.

And this is not a bipartisan conclusion:

Most Republicans say the U.S. should help Israel while most Democrats and unaffiliated voters say the U.S. should do nothing.

---
---

4. McCain: US won't allow 2nd Holocaust
By HERB KEINON
http://www.jpost.com/servlet/Satellite?cid=1215331045831&pagename=JPost%2FJPArticle%2FShowFull

---
---
5. Gaza: Another Palestinian sentenced to death for helping Israel

http://www.israeltoday.co.il/default.aspx?tabid=178&nid=16671
---
---

6. PM Brown Assures Israel: "Britain is your true friend".
British PM warns Iran in landmark Israel speech

http://news.yahoo.com/s/afp/20080721/wl_uk_afp/
mideastbritainisraelirandiplomacy_080721095410

by Robin Millard
Extracts:
British Prime Minister Gordon Brown warned Iran on Monday it must
freeze sensitive nuclear work or face more sanctions, in the first
address by a British premier to the Israeli parliament.

Brown also attacked Iranian President Mahmoud
Ahmadinejad's "abhorrent" threats against Israel and declared that
Britain stands alongside the Jewish state.

His comments on Iran's nuclear drive echoed a warning by US Secretary
of State Condoleezza Rice that Tehran had two weeks to respond
seriously to an international offer or face further "punitive
measures."

"Iran now has a clear choice to make: suspend its nuclear programme
and accept our offer of negotiations or face growing isolation and
the collective response not just of one nation but of all nations
round the world," Brown said.

"Just as we have led the work on three mandatory sanctions
resolutions of the UN, the UK will continue to lead -- with the
United States and our European Union partners -- in our determination
to prevent an Iranian nuclear weapons programme."

Prime Minister Ehud Olmert said Israel "highly appreciates"
Brown's "determination ... (on the) issue of terrorism and Iranian
nuclear armament.

"The most serious threat for stability in the Middle East and the
global peace is rooted in ... Tehran," he added.

Brown was introduced by parliament speaker Dalia Itzhik, who evoked
the turbulent history of Anglo-Israeli relations.

"The past is for the history box. Today we are partners; we are going
towards a better future towards the thriving prosperity of our
nations.

"The Iranian nuclear spearhead is directed not only towards Israel
but towards the entire West."

The Tehran regime is "inciting genocide and they are about to
complete the last stages of nuclear weaponry. Many are trying to
reassure us that the Shoah (Holocaust) will not be repeated."

Brown's spokesman said the premier did not rule out "extended
sanctions in some form on the oil and gas sector" in Iran, OPEC's
number two producer.

Sources said that could involve sanctions on spare parts for Tehran's
fairly limited domestic oil refining capacity.

"We should rule nothing out at this point, as he has always made
clear, but our focus at the moment is on strengthening the sanctions
regime to keep up the pressure on Iran," Brown's spokesman said.

In his speech, Brown also took on Ahmadinejad, who has repeatedly
attacked Israel's right to exist and said it should be wiped off the
map.

"To those who question Israel's very right to exist, and threaten the
lives of your citizens through terror, we say: the people of Israel
have a right to live here, to live freely and to live in security.

"And to those who believe that threatening statements fall upon
indifferent ears, we say in one voice: it is totally abhorrent for
the president of Iran to call for Israel to be wiped from the map of
the world."

On Sunday, Brown visited Yad Vashem, Israel's memorial to the six
million Jews murdered in the Holocaust.

He praised the achievements of the Jewish people over the century in
spite of persecution and also Israel's achievements in the 60 years
since the state's creation.

"To have achieved all this in the face of the war, terror and
violence, intimidation and insecurity is truly monumental," he said.

"Let me tell the people of Israel today: Britain is your true friend."

Brown was on his first visit to Israel and the West Bank since
becoming prime minister in June 2007. On Sunday he called on Israel
to halt new settlement building on occupied land and pledged new aid
to the Palestinians to help kick-start their economy.

---
---

7. Israel fears Iranian

WMDs

would reach

Hamas


http://www.israeltoday.co.il/default.aspx?tabid=178&nid=16661
Outgoing Israeli Ambassador to the UN Dan Gillerman clarified at the weekend that Israel is not necessarily worried about a direct Iranian nuclear strike on the Jewish state, but rather that Tehran will supply more unstable regional elements with atomic weapons.

"The real fear is not that the Iranians will be crazy enough or stupid enough to launch a missile at Israel, but that they will have no compunction about providing rogue regimes and terror organizations like Hamas and Hizballah with weapons of mass destruction," Gillerman said in an interview with The New York Times.

In a parallel interview with Newsweek, Gillerman said Israel "should do everything in its power, literally everything, to prevent that mad regime in Tehran from acquiring nuclear weapons."

Israeli army chief Gen. Gabi Ashkenazi flew to Washington on Saturday night for yet another round of talks with top US military leaders over how best to deal with Iran. It was widely reported earlier this month that the Bush Administration had given Israel the go-ahead to complete preparations for a strike on Iran's nuclear facilities.

---
---
---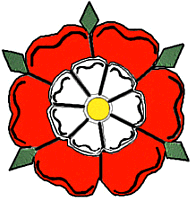 Pleased with what you read?
Did you benefit from it?
We do this because we believe in it and enjoy doing it.
Your benefit and wellbeing are goals of ours and worthwhile to us in themselves.
Nevertheless,
Brit-Am depends on contributions alongside purchases of our publications
Click Here to make an offering.
Click Here to view our publications.
---


To See Previous Issues
Jerusalem News Archives

Join the Brit-Am Ephraimite Discussion Group
Just Send an
e-mail
with "Subscribe" in the Subject Line
and in the Message

Main Page

Your Offerings and Orders for our Publications