The Lost Ten Tribes Identified and the Relevant Statistics.
An Ongoing Series: Previous Articles

Israelite Bases Overseas

The USA

737 U.S. Military Bases = Global Empire


http://www.alternet.org/story/47998/



Extracts:


The total of America's military bases in other people's countries in 2005, according to official sources, was 737.
....

These numbers, although staggeringly big, do not begin to cover all the actual bases we occupy globally. The 2005 Base Structure Report fails, for instance, to mention any garrisons in Kosovo (or Serbia, of which Kosovo is still officially a province) -- even though it is the site of the huge Camp
Bondsteel

built in 1999 and maintained ever since by the

KBR

corporation (formerly known as Kellogg Brown & Root), a subsidiary of the Halliburton Corporation of Houston.

Interestingly enough, the thirty-eight large and medium-sized American facilities spread around the globe in 2005 -- mostly air and naval bases for our bombers and fleets -- almost exactly equals Britain's thirty-six naval bases and army garrisons at its imperial zenith in 1898. The Roman Empire at its height in 117 AD required thirty-seven major bases to police its realm from Britannia to Egypt, from Hispania to Armenia. Three Maps showing US Military presence Overseas plus one map showing US Military Intervention since WW2.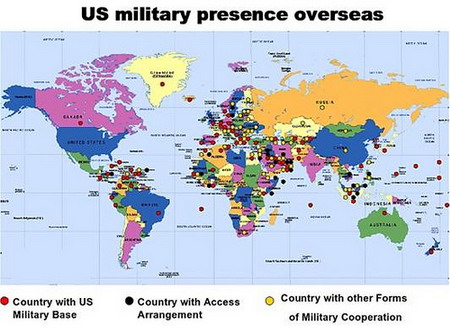 Source of Map
American Military Occupation. The Rules of the Game Part I.I.
http://www.eurotrib.com/story/2009/8/23/114055/036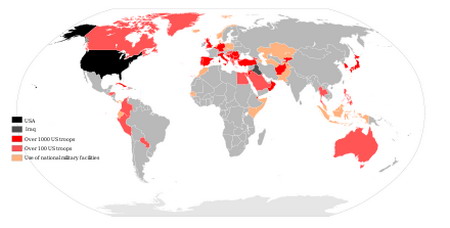 Source of Map
American Military Occupation. The Rules of the Game Part I.I.
http://www.eurotrib.com/story/2009/8/23/114055/036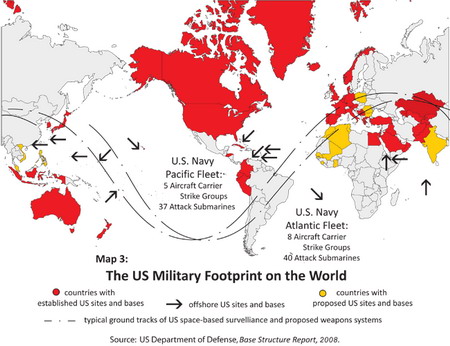 Source of Map
Combating Globalization.
http://combatingglobalization.com/
articles/combating_globalization4.html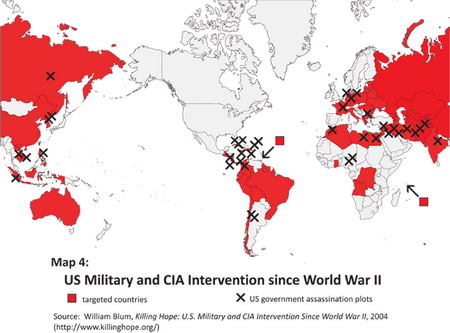 Source of Map
Combating Globalization.
http://combatingglobalization.com/
articles/combating_globalization4.html